Tuesday, 31 March 2009
Posted by

RodeEgel
at 07:24
2 comments:

Monday, 30 March 2009
Hello everybody! As you already might have noticed, my name is Coco.
Coco Calavera. I live in Groningen together with a huge amount of
other animals and my owners.


I recently arrived here and Sullivan McPig told me he really enjoyed posting nice adventures on his Blog (
The Life and Travels of Sullivan McPig
), so I asked him how to start a Blog and here it is! I hope you all enjoy it. I certainly will!!!

A picture of Sullivan (left) and me (right) in the sun.

Enjoying the sun after weeks of gloom, doom and lots of rain.

Here I am with some orange guy I met at the postoffice. He told me he works for some kind of bank.


And here you go! Coco and Calavera!


This afternoon we took a nice walk into the countryside.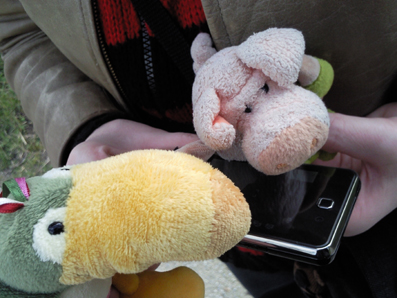 Sullivan and his owner show me how they take their super pics.
Cool!!!


I love all kinds of texture and odd things I find on the street.
Look at this beautiful leaf, almost disolved into the ground.